Welcome to the Galilee Centre!
We Are Open ... And So Excited to be Welcoming Our Guests Again!!
Updated: September 17, 2020
After many months of being closed due the Corona Virus we are once again Open for Business!
We've already hosted two retreats under our new policies and the feedback and results are very positive.
We had our 8th Annual Retreat August 27-30 at the Centre.
We were well informed ahead of the protocols of Covid-19.
The staffs were very caring and helpful to keep us safe! Thank you, thank you, thank you!
We have enjoyed our stay just as we had before!
We have already booked for our Retreat for 2021!
We are grateful for the opportunity to host our women's retreat at Galilee Centre. Jerry was incredibly helpful and a pleasure to collaborate with.

All necessary precautions were taken to ensure we felt safe and comfortable during our stay. The building was immaculate and attention to detail evident. We are so eager to return. Thank You Galilee!
Thank you to all of our guests - past and present - who have continued to work with us and support us as we work to discover our "new" path forward.
Our Booking Lines are open and we are scheduling groups and delivering programs for the fall and into 2021. Our staff are ready to help you book your next retreat and taking registrations for our programs.
As Jesus returned to Galilee following a period of solitude, we invite you to join us in our tranquil, prayerful oasis after months of isolation and solitude.
Situated next to an old growth forest overlooking the Ottawa River, Galilee Centre is a welcoming holistic spiritual life centre that is an oasis of peace, care and comfort.
Sponsored by OMI Lacombe, our mission is to provide an environment, programs and services which nurture people's personal and spiritual growth, enabling them to contribute to a healthier world.
"May we be profoundly shaken by what is happening all around us. The time has come to eliminate inequalities, to heal the injustice that is undermining the health of the entire human family"
His Holiness Pope Francis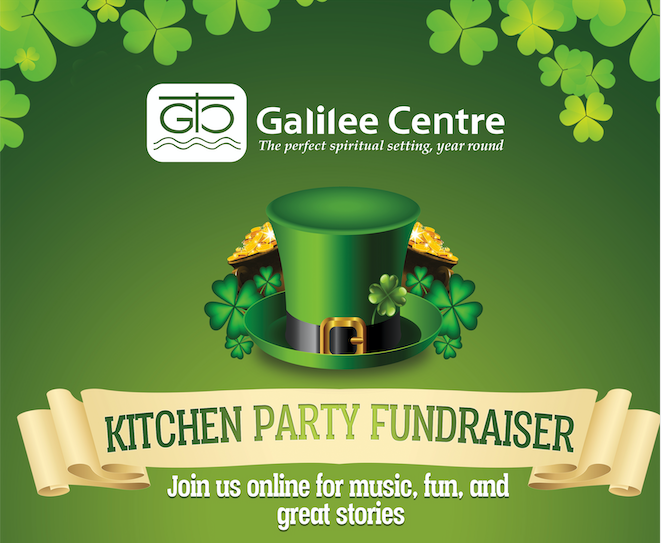 Wednesday, March 17th, 2021 at 7:00pm to 8:30pm HAPPY ST PATRICK'S DAY Join us online for music, fun, and great stories. Featuring: One Way Bridge This band will delight us with some favourite Irish tunes. Band members are Bill Lunney, Dave Rowat, Kas Rehmaan, Rob Redman and Grant Smith. Gwen Millar and Bronwyn Kelly This … Read More!